The #1 Cloud-Based Chiropractic Software
From scheduling and reporting, to billing and beyond, ChiroFusion streamlines and simplifies all aspects of your practice.
Software that's:
Affordable.
Reliable.
Easy to use.
Key Features of our Chiropractic EHR Software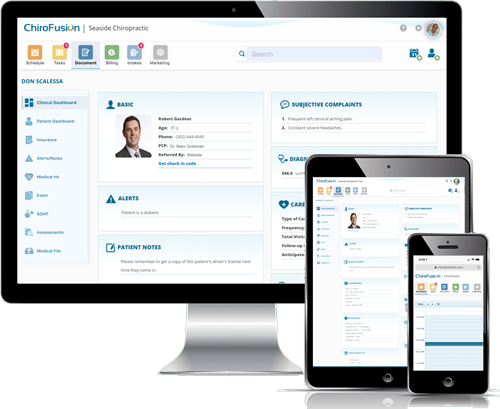 ChiroFusion Has The Features To Grow Your Practice
ChiroFusion was built from the ground up to improve efficiency and productivity in the office while maximizing profits.
OVER 1000 STELLAR ONLINE REVIEWS
"ChiroFusion has been the best decision our practice has ever made…."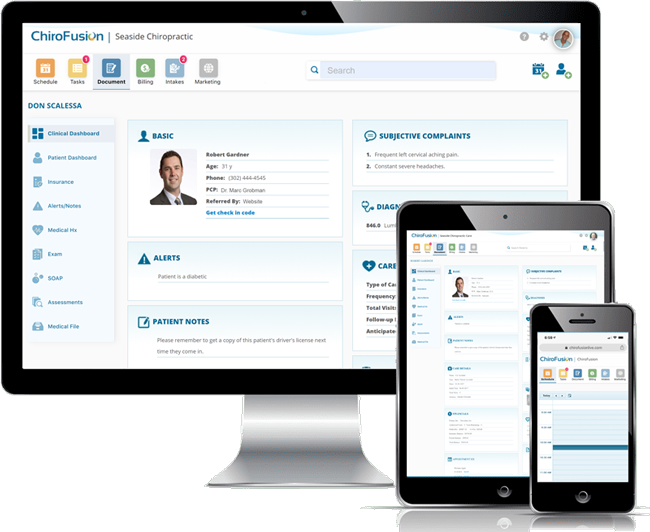 With ChiroFusion, there's never any software to install or update, and no additional hardware to manage. Say goodbye to large upfront investments, hidden fees, contracts and mandatory support fees.
Our Chiropractic Clients Love Our Software
JOIN THE OVER 14,000 USERS WHO ALREADY TRUST CHIROFUSION TO GROW THEIR PRACTICE
ChiroFusion has exceeded my expectations on every level. The software is easy to learn and use, and the service can't be beat. I highly recommend ChiroFusion to anyone looking for a reliable EHR software.
The software is so simple to use. The detail and thoroughness is amazing! It is simplifying not only my practice, but my life. What a blessing is was to find this program and group of wonderful people!
From the initial conversations with Damon and training with Maria I knew I made the correct choice in ChiroFusion. Such an easy and streamlined way to create a patient record, notes, and exams. It was such an upgrade and necessity compared to our old system.
We have been using ChiroFusion in our office for nearly a year and have been totally satisfied. After 38 years in practice and using many different software programs I can honestly say I've found EMR Nirvana.
ChiroFusion is a user-friendly, true cloud based solution. No matter what type of practice you have, this is an excellent choice for your office. The program is inexpensive and offers a lot of value for your dollar. I would highly recommend ChiroFusion.
YOU MADE IT THIS FAR. YOU MIGHT AS WELL SEE WHAT ALL THE FUSS IS ABOUT.
SAVE TIME. PROTECT YOUR PRACTICE. GET PAID FASTER.
FAQ About Our Chiropractic Software
Q. Does your complete practice management software for chiropractors really only cost $99/month?
A. The starting price of our DC Plus plan is only $99/mo. This plan provides all required basic functions including patient scheduling, reporting, billing & claims management, integrated payment processing and patient check-in. This price also includes all software updates and data backups.
Q. What separates ChiroFusion from other chiropractic software vendors?
A. Our cloud-based software is easy to implement and requires no additional hardware. It's also the only chiropractic EHR that includes an integrated clearinghouse. This feature alone saves time and money, and improves billing efficiency. ChiroFusion's modern interface and ease-of-use are all very appealing features to doctors who don't want to spend time learning to use a clunky, out-dated system. Read more…
Q. How long does implementation take for new clients?
A: Implementation time is dependent on our clients. Most clients are fully up and running within 2-3 weeks. We provide our clients with an account manager and one-on-one training sessions. It's up to you and your office to decide how quickly you will get up and running.  
Q. What type of hardware requirements does your software have?
A: Unlike server-based software, ChiroFusion does not require any additional or specialized hardware. We're 100% web-based and run from your web browser. You simply log into our website from any internet-connected device to access your practice data. Moving to the cloud not only saves you the hassle of managing on-site servers and hardware, and often costs less while providing unmatched security.  
Q. How do I transfer data from my current practice management software into ChiroFusion?
A. Our migration team is able to transfer demographic data from your current system into ChiroFusion at no cost to you. In order to do so, you would need to provide us with your data file and we'll handle the rest.