The Chiropractic Billing Software trusted by over 8,500 chiropractors.
All the billing tools you need in one easy-to-use platform.
All the tools your practice needs in one integrated platform
Better Billing. Faster Payments
Submit claims quickly & easily straight from our EHR using our integrated clearinghouse. Track the status of your claims and safe time with auto payment posting. Setup recurring monthly payments for patients on wellness plans.
Compliant SOAP Notes in 30 Seconds
Focus your time on your patients, not your paperwork. ChiroFusion allows you to create a compliant note and claim in just 30 seconds so you can spend more time doing the things you enjoy doing.
Auto-Generate Claims. Eliminate Billing Errors
ChiroFusion auto-generates claim files for each documented encounter. This virtually eliminates the need for charge entry and eliminates errors.
Only $99/month
ChiroFusion is ranked #1 in affordability. Manage your entire practice for only $99/month. This includes all software updates, data backups, patient self check-in and e-claims with auto payment posting.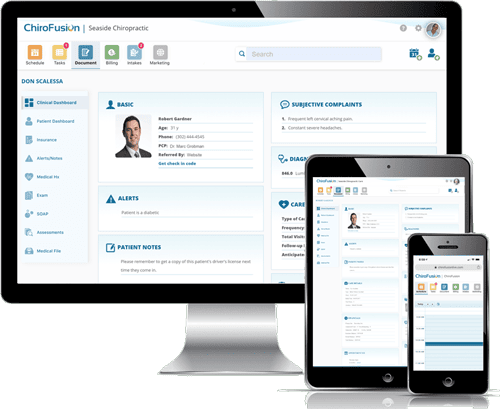 What our clients are saying about us
Join over 8,500 successful chiropractors who have already discovered ChiroFusion.
ChiroFusion has exceeded my expectations on every level. The software is easy to learn and use, and the service can't be beat. I highly recommend ChiroFusion to anyone looking for a reliable EHR software.
The software is so simple to use. The detail and thoroughness is amazing! It is simplifying not only my practice, but my life. What a blessing is was to find this program and group of wonderful people!
From the initial conversations with Damon and training with Maria I knew I made the correct choice in ChiroFusion. Such an easy and streamlined way to create a patient record, notes, and exams. It was such an upgrade and necessity compared to our old system.
We have been using ChiroFusion in our office for nearly a year and have been totally satisfied. After 38 years in practice and using many different software programs I can honestly say I've found EMR Nirvana.
ChiroFusion is a user-friendly, true cloud based solution. No matter what type of practice you have, this is an excellent choice for your office. The program is inexpensive and offers a lot of value for your dollar. I would highly recommend ChiroFusion.
SAVE TIME & MONEY. GET PAID FASTER!
Complete this form to get a copy of our full demo emailed to you.