Why Chiropractors Choose ChiroFusion
ChiroFusion is the ultimate solution to the high-priced, difficult to use and outdated software that currently populates the chiropractic marketplace. We offer a superior practice management software at a price that won't empty out your pockets.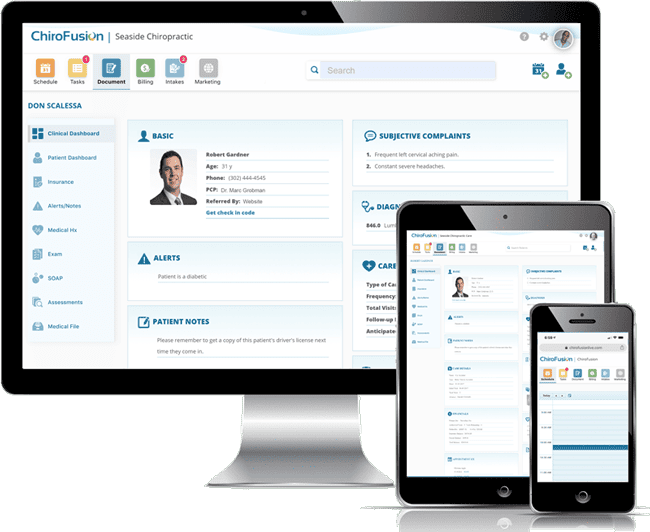 Why Choose ChiroFusion Software?
Quick & Easy Implementation
Our software runs on the web, not on your computer. We can have you fully up and running in just a few weeks weeks. Other software can take up to 4 months to learn, making implementation difficult.
Fully Integrated Solution
Our fully integrated practice management software makes it simple to schedule and manage appointments, create reports and notes on the fly, and bill for your services.
Easy To Learn & Use
Our intuitive interface has been designed to 'think' the way you do and mirrors your current workflow. For most users, a few hours is all it takes to feel comfortable using our software.
Built For Chiropractors
We understand the unique differences between chiropractic and other medical specialties, and the challenges that chiropractors face when it comes to documentation and billing.
Save Time & Money
Integrated EHR, medical billing software, and clearinghouse saves time. Create a compliant SOAP note and claim in just 30 seconds. Submit to our clearinghouse with just one click
Cross Browser Functionality
We believe that you should have the freedom and flexibility to work the way you want to work. ChiroFusion is available on a Mac, PC, Tablet or smartphone. It's your choice.
Insanely Affordable - Only $99/month
ChiroFusion offers an all-in-one solution that includes patient scheduling, reporting, billing & claims management for only $99/month. You won't find a better value anywhere!
24/7 365 Day Support
Exceptional client-focused support is what we strive for every day. Our support team is available to assist you 24/7/365, including nights, weekends and even holidays.
YOU MADE IT THIS FAR. YOU MIGHT AS WELL SEE WHAT ALL THE FUSS IS ABOUT.
SAVE TIME. PROTECT YOUR PRACTICE. GET PAID FASTER.